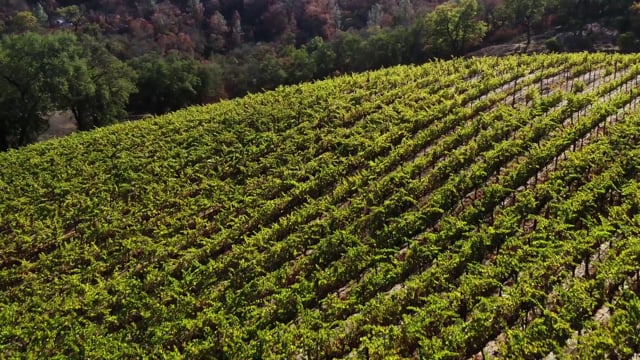 Happy Holidays!
Hand-crafted limited production Napa Valley wines made exclusively for the Sigma Pi Brotherhood. 20% of proceeds are given back to Sigma Pi.
Countdown to Fall Release!
We are excited to showcase the Fall 2022 Release in the upcoming days! Don't miss out joining the 2 Twenty-Six Club and finding the club level that best fits your budget and lifestyle which supports our great fraternity!
00
00
00
00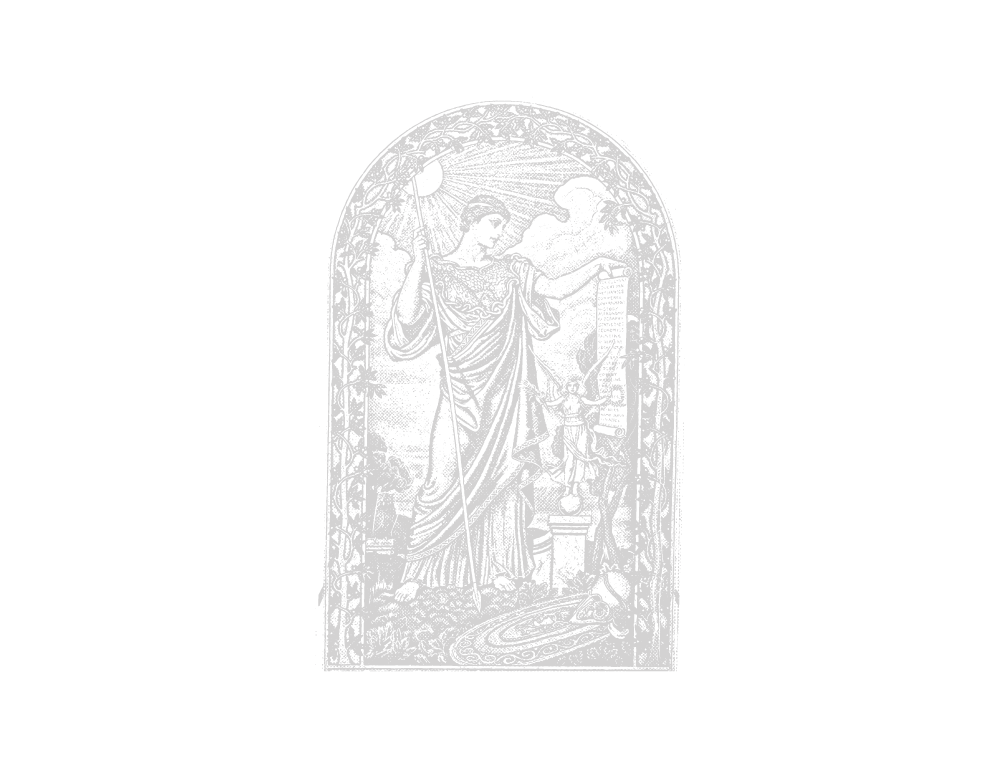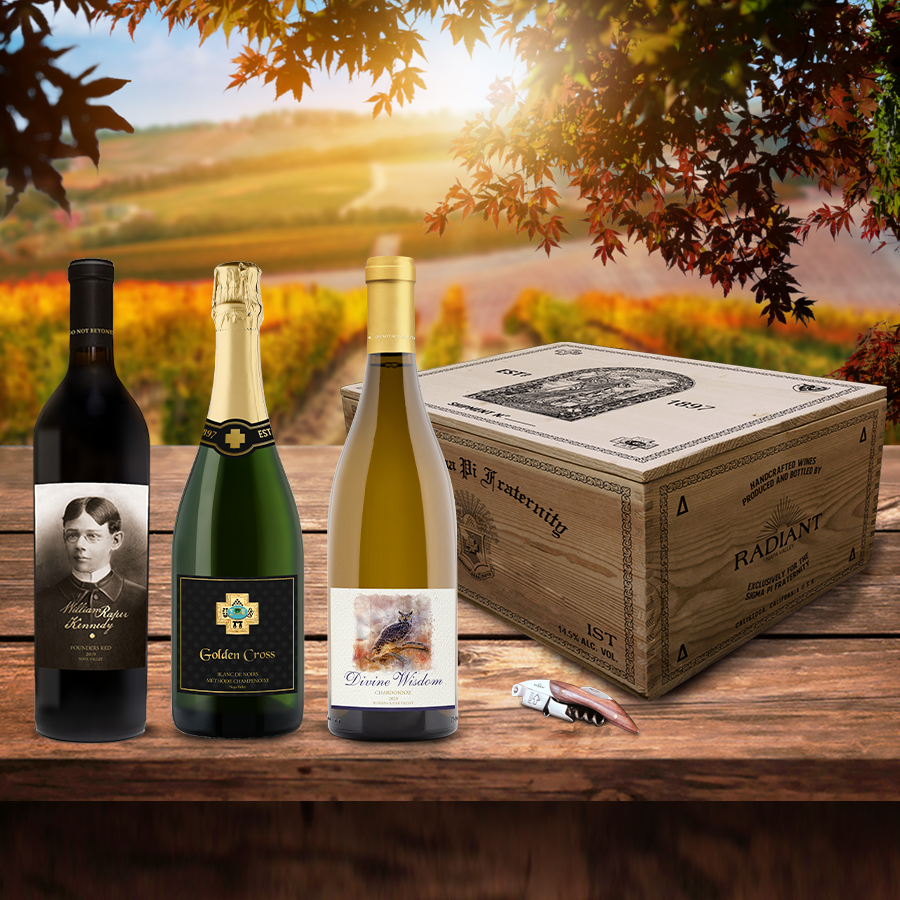 As a member of the 2 Twenty-Six Club, you have a unique opportunity to support Sigma Pi
February 26, 1897 is a day that resonates with and binds all members of our Fraternity together. Since that day, our bonds of brotherhood have continued to grow.
Sigma Pi alumni now have the unique opportunity to support our undergraduate brothers with this amazing program. With every shipment, Brothers who join the 2 Twenty-Six Wine Club will receive shipments of 3 or 6 bottles a year handcrafted, limited production wines made exclusively for the men of Sigma Pi Fraternity.
When you enjoy a glass of wine from Radiant Napa Valley, you are supporting the Fraternity and the education of our brothers, all while enjoying excellent wine from America's most renowned wine country.
We would love for you to consider joining the 2 Twenty-Six Club to celebrate our great Fraternity and give back to the organization that has such a special place in our hearts.
Convocation
2021 Rosé – Napa Valley

The first Convocation took place in 1909 in Columbus, Ohio with only four active chapters. Since then, thousands of brothers have gathered to recognize outstanding chapters, undergraduates, and alumni accomplishments. This commemorative bottle represents the 55th & 56th Convocations where more than 100 active chapters gathered in celebration on August 17-20, 2022 in San Antonio, Texas.
$35 / Bottle
Fall Release
INTRODUCING THE FALL 2022 LABELS AND VARIETALS

William Raper Kennedy
2019 Red Wine – Napa Valley

Our Founders' Series continues by honoring William Raper Kennedy. Born in Vincennes, Indiana on November 22, 1877, Kennedy graduated from Vincennes University in 1897. He served in the Spanish-American War and re-enlisted in the infantry a month after being discharged. Except for brief intervals, he was almost continuously in military service, rising from the rank of private to the rank of Lieutenant Colonel of Infantry. He married Helen Hens in 1908; they had four children: one daughter and three sons. Kennedy passed to the Adytum on High on December 5, 1944.

We introduce you to William Raper Kennedy. The 2019 Red Wine is an artful red blend created by winemaker Todd Heth. This wine exhibits dark blackberry, bing cherry and plum notes perfectly into layers of coffee and tobacco. The finish is dry with long lasting berry fruit. Silky but firm tannins, this wine is enjoyable now but has the ability to age well in the cellar.
$95 / Bottle

Divine Wisdom
2020 Chardonnay – Russian River Valley

Sigma Pi is often represented by the owl, whom, in heraldry, is associated with Athena, the Greek goddess of wisdom and victory. The owl is synonymous with our Golden Quest. Through the Pythagorean brotherhood, we learn that the four degrees of instruction are Preparation, Purification, Perfection, and the Application of Divine Wisdom.

We introduce you to Divine Wisdom. This Chardonnay is a real gem. Hailing from the cool and foggy climate for the Russian River Valley in Sonoma County, this beautiful medium-bodied wine was grown slowly to build intense flavors over time. This wine was aged in French oak and displays a beautiful balance of fruit, oak and liveliness on the palate and exhibits lush mango and toasted almond. Balanced fruit with tarte acidity makes this wine a classic example of Premium Russian River Chardonnay.
$56 / Bottle

The Badge – Golden Cross
Sparkling Blanc de Noirs – Méthode Champenoise – Napa Valley

Each and every initiated member of the Fraternity proudly wears the Greek cross badge over their heart. The badge represents the fundamental insignia of a brother's connection to the Fraternity, and the symbols on the badge represent specific aspects of our initiatory rite. Pythagoras taught that feeling is centered in the heart, so the deepest connection to the Fraternity is therefore placed over it.

We introduce you to The Badge – Golden Cross. This premium sparkling wine – meticulously and artfully made in the traditional champagne method – rivals anything found from the best Champagne houses in Épernay and Reims. Blended superbly from 100% Pinot Noir, this magnificent Napa Valley Blanc de Noirs exhibits brioche and a hint of berry, with bright citrus in the aromas. The fine mousse brings along these notes in the mouth. Lingering finish of citrus that begs for another sip.
$85 / Bottle
Club Format and Cost
In order to receive discounted shipments and additional lifestyle benefits, you must be a member of 2 Twenty-Six Club. A $50 one-time, non-refundable deposit will be processed to secure your 1st shipment only. This deposit will be deducted from your 1st club shipment cost. Wines are released in two 3-Bottle or 6-bottle shipments each year based on the club level you select. The cost will range based on your selections. The cost of a bottle ranges from $35 to $75 + tax & shipping.
Each club shipment for 3-bottle members will arrive in a cardboard shipper that can be upgraded to a fire-branded Sigma Pi wooden crate for a discounted price of $25 ($50 Value). All club shipments for 6-bottle members will arrive in a wooden crate at no additional cost ($99 Value). Except for your one-time, non-refundable $50 deposit, your card will not be charged until the Release date. Again, the $50 deposit will be deducted from your 1st shipment cost.
Each club shipment can also include a special welcome package and gift at no additional cost ($30 Value). Depending on the club level you choose, you can customize your wine selections! New, library and special edition wines will be offered. There is no long-term commitment, and you may cancel at any time.
Please review 2 Twenty-Six Club member levels and benefits on comparison matrix presented on the Club page. Enjoy your wine and remember, when you share a glass, gift a bottle or visit the Fairwinds tasting room in Napa Valley together, you are supporting Sigma Pi. In the bonds of ΣΠ!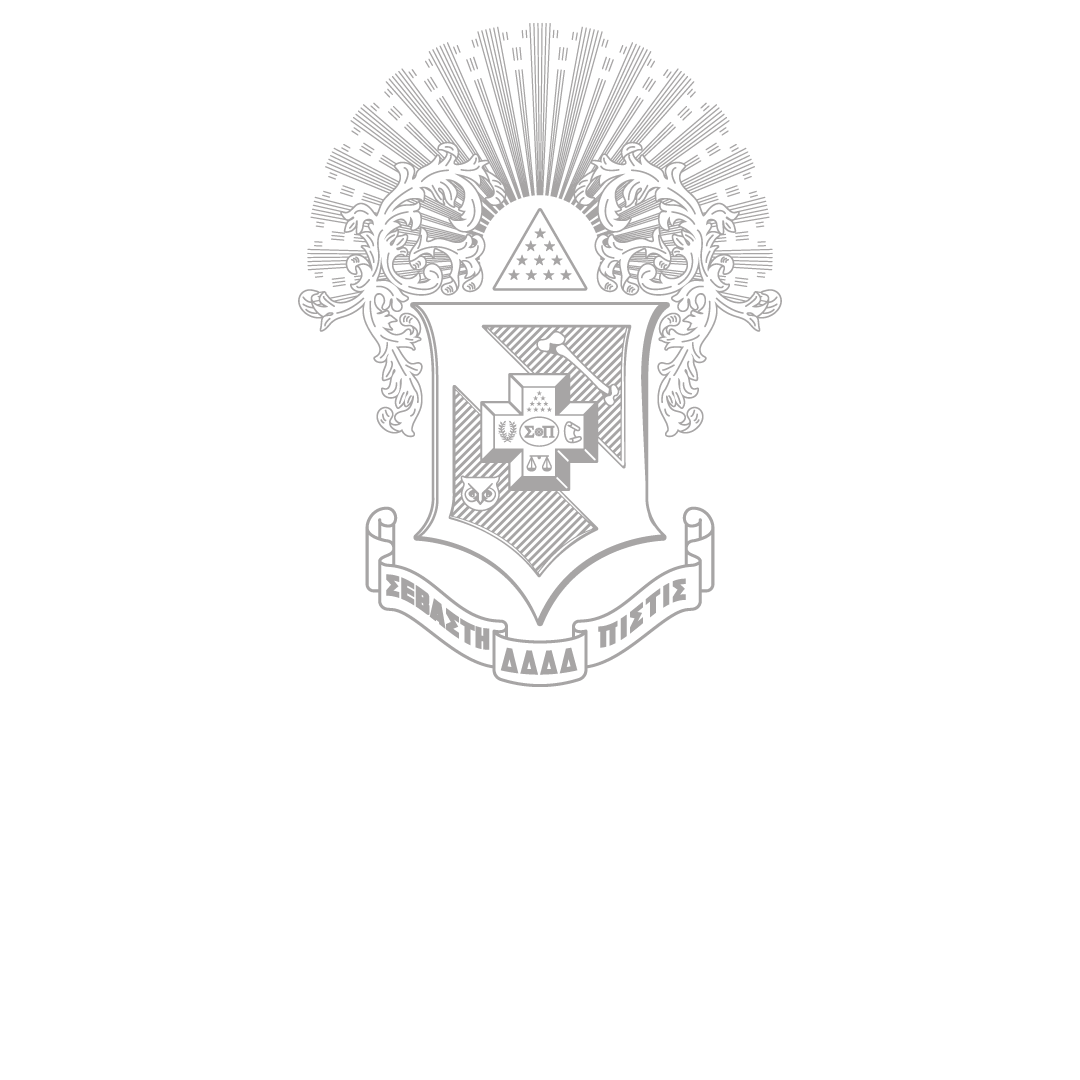 Giving back to Sigma Pi
When you join the 2 Twenty-Six Wine Club, proceeds are supporting Sigma Pi and our educational initiatives!
With every shipment, members of the Wine Club show their support to the Fraternity's mission to inspire, promote, and support the lifelong development of our brothers.
Apply to join the 2 Twenty-Six Wine Club and support Sigma Pi Fraternity while enjoying world-class wines from Napa Valley.
Hear about
Sigma Pi
I'm excited to share with you the incredible Radiant Napa Valley. This wonderful partnership will allow us as sojourners on earth to experience Sigma Pi in a unique and beautiful way. Becoming a member of the 2 Twenty-Six Club will allow Sigma Pi alumni the opportunity to explore the past of the Fraternity and reconnect with our brotherhood in a unique way.
Jonathan M. Frost (UMSL '99)
CEO of Sigma Pi Fraternity
Joining Sigma Pi was life-changing for me. Being able to financially support the Fraternity through this creative partnership while putting fantastic wine on our family table is a great opportunity. The programs funded through this campaign provide critical resources to our brothers.
Doug Gold (Santa Clara '88)
President of Sigma Pi University
Radiant Napa Valley is a fun and engaging way to express support for the next generation of Sigma Pi Fraternity. 2 Twenty-Six Club members show an exceptional devotion to building a sustainable future.
Joe Palazzolo (Monmouth '00)
Grand Sage of Sigma Pi Fraternity
Since 1897, Sigma Pi has celebrated the passion of our brotherhood. Radiant Napa Valley is just another extension of this celebration. Theresa and I are honored to be members of the 2 Twenty-Six Club that will support and benefit our lasting, fraternal brotherhood.
Larry Rovira (Cal State Fullerton '80)
Past Grand Sage of Sigma Pi Fraternity
I am honored to make these wines for the Sigma Pi brotherhood and excited to share them with you!
Brandon R. Chaney
Proprietor & CEO – Fairwinds Estate Winery & Radiant Napa Valley
Experience the benefits and lifestyle!
Membership financially supports Sigma Pi.
Club membership options to best fit your budget and lifestyle.
Two shipments of 3 or 6 bottles per year (minimum to retain club level seniority).
Wine received in a keepsake vintage Sigma Pi fire-branded wooden crate.
Exclusive access to limited releases and library wines.
Discounted access to online store to replenish your cellar and gift wines to friends & family.
Free wine tasting experiences at Fairwinds in Napa Valley.
Special access to Sigma Pi only events and functions.
Your name honored on the 2 Twenty-Six Club Member Plaque at the winery.
Fairwinds Estate wines are offered at 10% off.